About a year ago, I purchased a handful of unwanted cigar boxes. I actually found these at an independent $1 store, but they are also available from Cigar shops. Sometimes they'll even give them to you. For a buck each, I figured I'd find a use for them at some point. Maybe decoupage.
Hmmm
.
..
Well, the other day I found a home for one of my cigar boxes. The need: storage. The item: guitar picks. My husband is a musician and I find guitar picks everywhere. However, when he needs a guitar pick they're never to be found. How is it that things always work that way???
So when there's a need, I shop...my own home. When I saw the colors of this Cigar box. I thought it would be perfect...
.
.. to sit on my husband's night stand because I recently picked up this gorgeous bedspread (minus the pillows / skirt) on clearance at Anthropologie. To make this bedspread my own, I paired it with a white skirt with green eyelet trim and layers of pillows ( & textures) of brown, white, green & orange.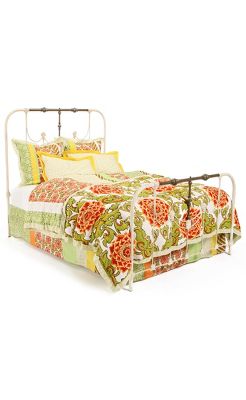 Sorry, again I digress. Back to the cigar box....
I went shopping around my studio and came up with these materials.
Add a little glaze & stain and your done! It really did not take much effort.
First I spray painted the wood knobs white. I wasn't very meticulous because I knew I would be working them over. Once dried, I sanded them lightly. I wiped on a walnut stain & quickly wiped them off to tone down the white. They still needed more so I whipped up some homemade glaze with acrylic paint & water and they looked great. Add a little gorilla glue & let them dry.
Next I simply drilled a hole in the top of the cigar box and inserted this fabulously worn piece of hardware. I unintentionally made it a snug fit so I didn't have to add any glue. Sweet.
I then attached this metal label holder with screws and inserted my handmade guitar picks label.
Sometimes it's the small projects that are so pleasing...
Now, what to do with those other cigar boxes...any ideas? If you've re-purposed a cigar box, I'd love to see it!