In my
family room
, I'd place this magnificent handmade sixty-four drawer apothecary cupboard in place of an entertainment center. Of course, my better half would require a flat screen above and I would, of course, agree....I can't help it I love movies.
To balance the primitive-ness of this piece, I'd pair it with a few modern-ish pieces (besides the flat screen t.v.)...
I'd place the "enormous" ceiling tin board as a architectural art piece above the couch (minus the pictures). The tin has such a beautiful design on its own and I want to keep the area somewhat simple.
A little added texture & color from these stunning curtains.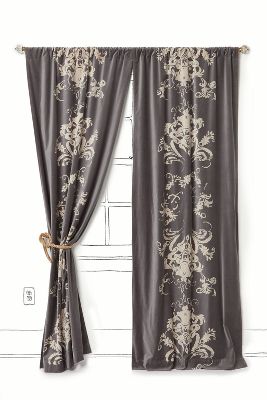 Lastly, to add a little character, I'd place this instant collection of vintage clocks on the apothecary cupboard.
For product sources, click on the pictures above.